Easy sales rank tracking
Rankforest is the smart way to monitor market performance and Amazon sales trends.
View historical data, export, read reviews, set up alerts, compare multiple titles.
Sales trends and market analytics at your fingertips, updated frequently. Books and more.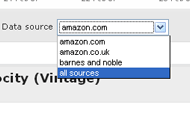 Track your book and view charts from several online retail outlets.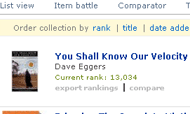 Track multiple books easily in your personal collection.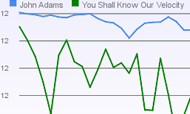 Compare multiple books on a chart simulatenously. See it.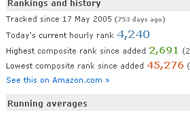 Keep up to date on historical sales performance.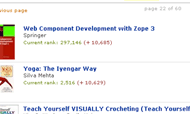 Browse tracked items by rank, date added, and more.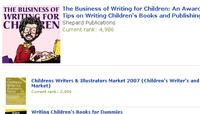 Compare your book's sales rank to that of similar books. See it.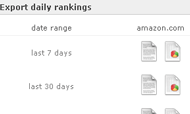 Your data is yours to crunch. Export in text or Excel formats.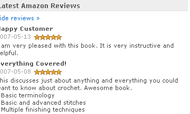 One click shows you the latest reviews at Amazon and blogs.
Who's using this?
Authors curious about their sales rank performance, publishers tracking their catalog, and Fortune 500 analysts doing market research for books and products. It can also be used to track just about anything on Amazon.com.
Multiple sources of data
In addition to tracking sales rank data from Amazon.com, rankings are also collected from secondary sources such as Amazon.co.uk and Barnes and Noble, where applicable. See the effect of marketing efforts across these channels.
What does Rankforest do?
Amazon sales rank tracking. See charts of your sales rank performance, compare your books to similar books, view the current sales rank of items that were purchased by people that also bought your item, export rankings, get a widget, stay current with RSS or email alerts.
Fresh data, updated hourly
All subscription levels feature hourly Amazon sales rank updates. Secondary sources are polled once per day. Host a promotional event and then see the effect on sales.
Research the competition
Do market research. Your collection is viewable only by you. Add competing titles and compare their performance over time.
Get started for free
Get the gist with a free account. If it doesn't meet your needs, choose from a variety of subscription plans to get upgraded features and capabilities. Cancel at any time.
NEW Updated chart visualizations
Users can opt in to the new chart style using the Account tab. The new charts require Flash and offer an interactive time series view of sales rank history.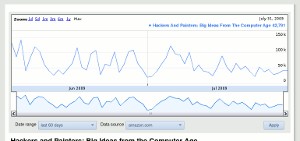 Ranktouch. Amazon.com sales rank tracking for the iPhone and iPod Touch
Ranktouch is an application that can be run on the iPhone or iPod Touch. It's a stand-alone tracking application that can monitor the sales rank of any item on Amazon.com. Read more about Ranktouch.
Sales tracking. View sales history by date and quantity sold
Any item purchases that originate from the Rankforest.com website are tracked and can be used to gauge chart ups and downs. Every item's detail page also has a link leading to Amazon.com that you can copy and paste into your own site to increase the relative volume of tracked sales – any sales conducted through this link will be reflected in the sales history at the end of each month. The ability to view the sales volume history is only available to pay-level accounts.
Track sales trends, market conditions, reviews, and buzz.
Track your book and look for trends. See how you sell each day of the week. Get alerts if your rank jumps due to a media mention. See how similar books are ranked, and get an idea of average book sales. It's also easy to check Amazon reviews, blogs, and Twitter for buzz. Everything you need is in one place.
Rankforest has helped thousands of authors and publishers since 2005.
Busy professionals save time by using the service to manage their sales and marketing efforts. No software to install or maintain. Let Rankforest show you how your titles are selling so you can find and focus on ways to increase book sales.