Google Sheets addon for Amazon sellers
Connect Amazon Seller Central and Google Sheets to create flexible, custom reports that fit your business needs
Get direct access to Amazon data inside Google spreadsheets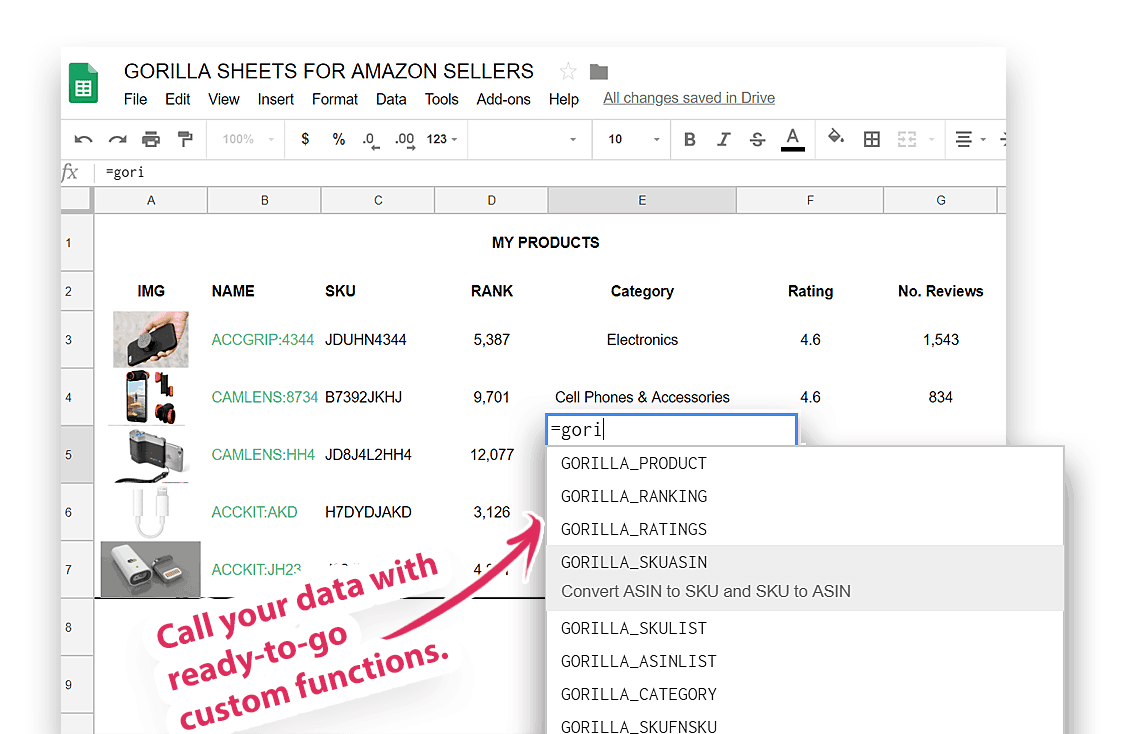 The annoying pain of getting Amazon data into your reports
TEDIOUS, TIME CONSUMING, REPETITIVE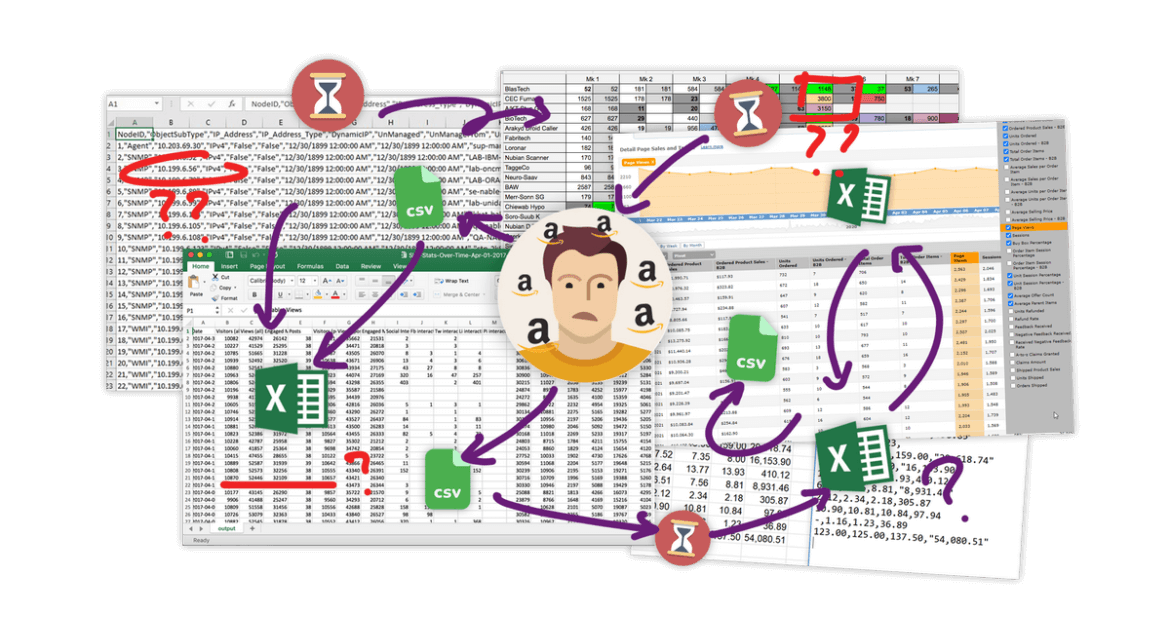 Stale data after one day

After one day (or less), your Amazon data is old and needs to be updated. Needs constant updates.

Constant logging in

Are you wasting energy clicking 10 times to generate a report for each account, multiple times a day?

Manual data entry

Do you waste time cleaning up raw data files, copying numbers, and polishing tables, rather than analyzing and understanding your data?

Repetitive, non-productive work

Are you wasting time and money doing the same repetitive work or paying someone for work that can be automated?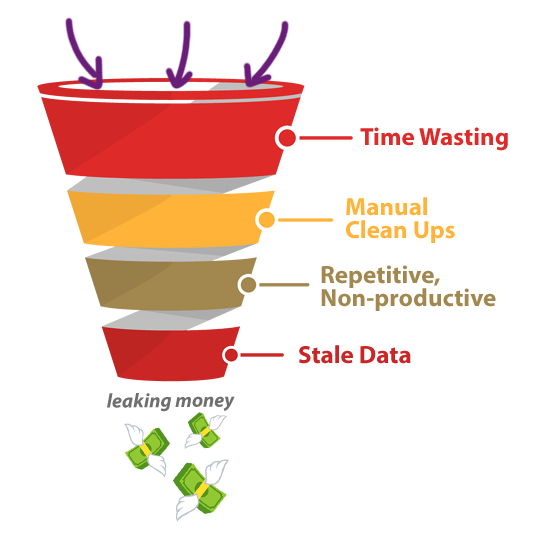 | | | | |
| --- | --- | --- | --- |
| Wasting time | Decreasing margins | Missed growth opportunities | Always something out of stock |
Stop working for data. Let data work for you.
GET YOUR LATEST AMAZON DATA AUTOMATICALLY WITHOUT ANY MANUAL WORK
Get fresh data quickly and easily

Fetch data from Amazon seller central to Google sheets with a simple spreadsheet formula. No need to download reports.

Automatic updates to your reports

Data is refreshed and updated automatically to your spreadsheet. No more manual data entry.

Centralize data for all your Amazon stores

Whether you have 1 store or 20 stores, you can access a specific store data or SKU from your spreadsheet. Create custom reports that fit your analysis and reporting needs.

Works like a regular spreadsheet

Know how to use spreadsheet functions like SUM, AVERAGE, VLOOKUP? Our functions work the same way to fetch Amazon data.
Custom reports and data you can generate on the fly
Improved inventory planner than Amazon's to stay ahead
Sales performance report by marketplace and SKU
Track listing details that hijackers try to change
Custom sales velocity calculations to know your best sellers
You can dedicate more time towards growth opportunities

Month by month profit and loss details
Share reports of review and ratings performance by ASIN
Detailed list of fees and charges you are paying to Amazon
Break even product cost calculator
Sales forecasting calculator using sales and inventory data
Big or small, Amazon sellers are saving 20 hours a month
WORK MADE EASIER, FASTER AND CUSTOMIZABLE
Generate accurate business snapshots
Quicker management report generation
Use up to date data for running operations
Operate with actionable and insightful data analysis
Utilize data driven forecasts to optimize sales
"If you are spending more time collecting and entering data than getting work done, check out Gorilla ROI."
What users say about us
Gorilla ROI is rated 4.7 out of 5 on the Google Marketplace. Good or bad, these are 100% honest and real, just like us.
3 vital and custom reports for your business
CREATE YOUR IN-HOUSE ADVANTAGE WITH CUSTOM ANALYTICS
1. Sales performance reports by SKU or ASIN

Track and view your best and worst sellers by SKU over any time period.

Create this dashboard with our functions:

GORILLA_ASINLIST()
GORILLA_SALESCOUNT()
GORILLA_PRODUCT()

Easily identify best and worst products at a glance
Make accurate and data-driven investment decisions
Spot products with high traction and prepare accordingly

2.Inventory planning reports to prevent going out of stock

Know what to send, when to send with your inventory data.

Create this dashboard with our functions:

GORILLA_SKULIST()
GORILLA_INVENTORY()
GORILLA_INVENTORYHIST()

Sync real-time inventory reports in order to improve your planning
Know when to restock and stop your best seller from going out of stock and losing money
Your team uses update to date data to know what inventory needs to be sent in

3.Amazon monthly profit loss tracker and detailed finances

Track all your finances automatically inside Google sheets. No CSV exporting and importing required.

Create this dashboard with our functions:

GORILLA_PROFITLOSS()
GORILLA_CHARGETOTAL()
GORILLA_FEETOTAL()

Merging 5 different reports no longer needed
Your data and reports are updated automatically
All finances and transactions are categorized and aggregated for ease of use
More reasons Amazon sellers love Gorilla ROI
Automate your existing spreadsheets

Our Amazon to Google sheets connector will work with any existing spreadsheet. Upgrade your current custom reports with automated data updated.

Create profit and loss statements

Ditch transaction reports and recreating reports in excel. Load your fees and charges automatically by day, month, quarter, year and more.

Speed up your team and operations

Most warehouse and inventory systems are overkill for small to medium businesses. Keep it simple and track your data and products by pulling data into G-Sheets.
Who is Gorilla ROI for?
Easy to install on any Google Sheets account.
Support tickets, live chat, training videos, documentation, instructions. You get it all.

Access the largest selection of Amazon data points

We offer the largest set of functions for Amazon sellers to get the data you need.

Pick the data you need in your reports. No bloat. 100% flexibility.
We offer the largest set of functions for Amazon sellers to get the data you need.
A function to load your entire ASIN list in bulk


=GORILLA_ASINLIST( )
Description:

//Return a list of ASINs from your marketplace(s) where you can filter by status, FBA, FBM and sort.
Syntax:
=GORILLA_ASINLIST([marketplace], [filter_sku], [status], [fulfillment], [sort])

Examples:
=GORILLA_ASINLIST()

// If no attributes are entered, it will list your entire list of ASINs for the marketplace added to your account.
=GORILLA_ASINLIST("US", , "ACTIVE", "FBA")
// Lists all active and FBA only ASINs from US marketplace.

"Saves us so much time and gives us insight on how to quickly modify our Amazon strategy"
FREE customizable templates included
Ready-to-go report templates included for all Amazon Sellers
AMAZON PROFIT LOSS SPREADSHEET

Calculate your Amazon profit and loss accurately by automatically pulling your transactions into this template. Categorized into income and expenses so you get the true P&L of your SKU and account.

PROFIT & INVENTORY DASHBOARD REPORT (NEW)

A simple way to track your inventory and profit on Amazon. Select a SKU and get a quick overview of your profits and inventory status.

SALES PERFORMANCE REPORT

See top sellers, BSR rank, how much sales has been generated per product and how many units have been sold over various time periods with ease.

SALES PROFIT DASHBOARD REPORT (NEW)

A simple high level sales report overview of your Amazon product. Select a SKU and marketplace and it will load your sales stats and key performance indicators.

INVENTORY REPLENISH REPORT

Track and manage your inventory based on sales velocity. Get a clear, accurate and timely update on your stock to stay on top of your business and avoid stock out.

FINANCES BREAKDOWN OF FEES & CHARGES

Pull in your finances related to all sales, charges and fees associated with your account and products.

Contains over 50 preset periods to compare and analyze the performance of your business.

PRODUCT DETAILS SPREADSHEET

Keep an eye on product stats like title, rank, review count, review rating and more.

Quickly identify if something was changed without your permission.

GET STARTED TRAINING SPREADSHEET

A simple step by step tutorial to the basics of using Gorilla Sheets. Custom function examples and more.

Reduce your learning curve if you are learning spreadsheets.