Online Arbitrage Software Geared for FBA Sellers
Your home for Amazon to Amazon flips
eFLIP HELPS YOU FLIP
THESE CATEGORIES:
BOOKS : 20 MILLION TITLES ( Including 500,000 Known Textbooks )
CDs : 2.2 MILLION TITLES
DVDs : 1.3 MILLION TITLES
VINYL RECORDS : 500,000 TITLES
CUSTOMERS WILL OFTEN PAY A HEFTY PREMIUM
FOR PRIME OFFERS THANKS TO:
FREE 2-DAY SHIPPING
A+ CUSTOMER SERVICE
NO – HASSLE RETURNS
MOVE BEYOND THE TRADITIONAL SOURCING METHODS
eFLIP IS ACCESSIBLE:
ANYWHERE : On a beach? Living in Australia? If you have access to internet, you can run your business from anywhere.
ANY TIME : Are you a night owl? An early bird? No need to wait for stores to open their doors anymore – eFLIP is open for business 24/7
ANY DEVICE : Mac? PC? Tablet? Phone? We've got you covered! eFLIP works on any device.
How does eFLIP work?
Use the acronym "FACS" to help you find profitable books to flip:
Filter
eFLIP's advanced filters allow you to quickly find books with high FBA prices and low Merchant Fulfilled prices. Here's an example: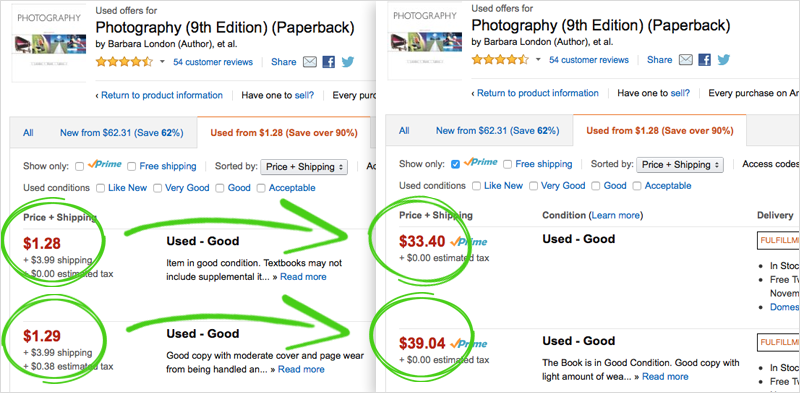 Analyze
Once you've identified a potentially profitable book, simply click the Camel icon or the Bar Chart icon to take a closer look at the sales rank history to see if it is selling consistently: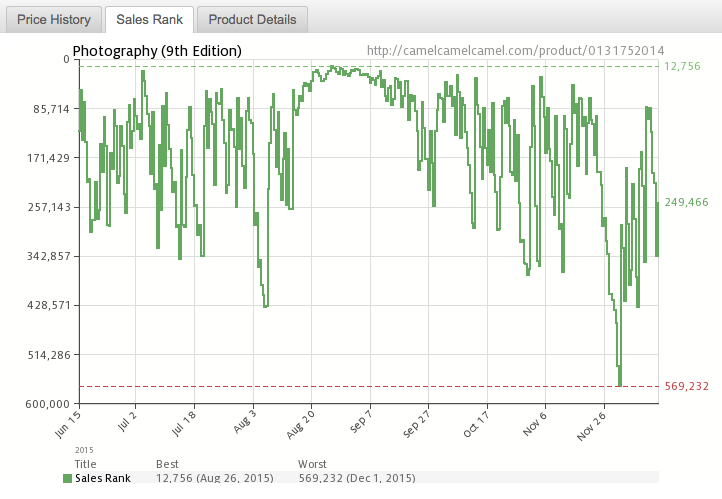 This particular book showed high demand in August, which indicates that it is likely a textbook. This would be a great candidate to purchase for resale.
Calculate
Before you invest in any book, you should estimate your fees to see if the potential profit is worth the risk. eFLIP has a built-in calculator that automatically pulls in the book's weight and estimates Amazon's FBA fees for you. All you have to do is enter your total purchase price and the calculator will do the rest. Do you want to double your investment? eFLIP will show you the list price you'll need to use to generate that return. Is a 50% return acceptable to you? eFLIP will show you that, too!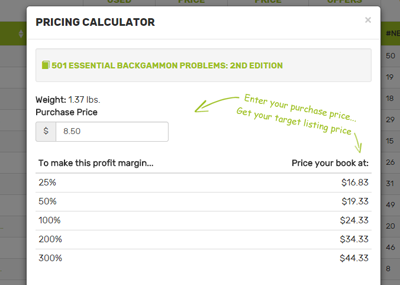 Snag
If the book meets your criteria, snag it before someone else does! Wait for the book to arrive on your front porch, then send it back to Amazon via FBA and wait for the sales to roll in. Repeat as often as desired!
FAQ
Why would I source books online?
You may live in a remote area of the country with very few book sources. Or you may be tired of competing with other scouters at library sales. Perhaps you like the idea of finding inventory while sitting on a beach.
Whatever your reason, there are plenty of books available online that can be flipped for a profit. eFLIP will help you find those books from anywhere with an internet connection.
How many books are in your database?
As of January 2018, we have a total of 23,280,157 unique ISBNs in our master database that we actively monitor. We filter out any slow-moving books (anything with a current sales rank higher than 3 million) so you don't have to search through duds to find profitable flips. We're constantly reshuffling the deck to remove books that aren't selling, and insert books that have recently sold. Our goal is to present only the best possible flips for our users, so you don't get stuck trying to flip a book with a rank of 12 million!
How many books can I purchase with eFLIP?
As many as you'd like! There are no limits to the number of searches you can perform with eFLIP.
How can I make money buying books on Amazon and reselling them back on Amazon?
Let's start by describing the two fulfillment options offered on Amazon:
Merchant Fulfilled (MF) – these are items offered by third party sellers and shipped from that seller's own warehouse (or basement). These books are typically shipped via Media Mail can take up to 14 days to arrive at the customer's house.
Fulfilled By Amazon (FBA) – these are also items offered by third party sellers but they are stored in Amazon's warehouses. Amazon Prime customers get free shipping on FBA items and they are guaranteed to receive the book within 2 days.
Many customers place a high value on fast and free shipping, which means that they are willing to pay more for a book that is Fulfilled By Amazon. If the price difference is large enough between Merchant Fulfilled offers and FBA offers, you can earn a profit by purchasing the cheaper MF offers and selling them via FBA. This is the core philosophy behind the concept of "FBA Arbitrage".